Asphalt Finisher
BMF 2500
Construction
2.500 mm

Working Width (Basic Screed)

170 kW

Engine Power

4.000 tons/hour

Max Production
High and Control Material Flow
With conveyor belt sensor, paving material will reaches the hopper smoothly and it can synchronizing the speeds of both paver and feeder to achieve accurate loading. The conveyor belt has a width of 1.2 meters and can deliver 4,000 tons of material per hour. The chain-reinforced conveyor belt guarantees reliable operation with no downtime.
Reliable Performace
The chain-reinforced conveyor belt guarantees long service life and low operating costs. Our service concept has a clear objective: less maintenance, less downtime, lower costs. So unnecessary maintenance points have been removed from the BMF 2500 and necessary points have been made more accessible.
Maximum Ease of Use
The individually adjustable workplace creates a comfortable environment for the operator. The conveyor belt, which can be changed quickly, makes the machine ready for all types of work on site. Quick release couplings make it practical to use the conveyor belt without tools.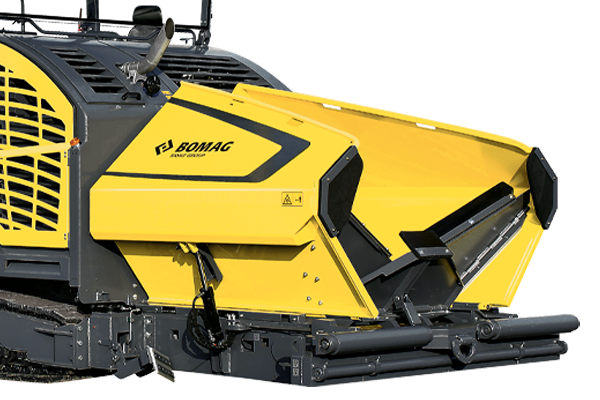 Larger Hopper
Gives optimum visibility in entire working area, to the front when unloading delivery trucks and to the back when loading the paver hopper. Very useful when using the slewable conveyor belt. To load the machine for transport, the frame can be raised at the front to a ramp angle of 10°. The roof can be moved into transport position using a hydraulic pump.