Single Drum Rollers
BW 220D-5
Construction
The Bomag BW 220, a single drum rollers in the 20-ton class, is used for soil compaction, particullary in the construction and maintenance of mining roads. With the "5" series, Bomag has been developed a product technology that is highly qualified in its class with low operating costs.
202 HP

Engine Power

20.100 Kg

Operating Weight

2.130 mm

Working Width

0,3 silt clay / 1,4 rock fill

Optimum Compaction Depth
New Engine
This new product generation uses a proven manufacturer's engines combined with a robust hydraulic concept. Equipped with the intelligent ECOMODE speed control, it not only saves up to 30% fuel, but also produces less noise.  With the optional ecostop technology, the engine switches off automatically after a defined period of inactivity.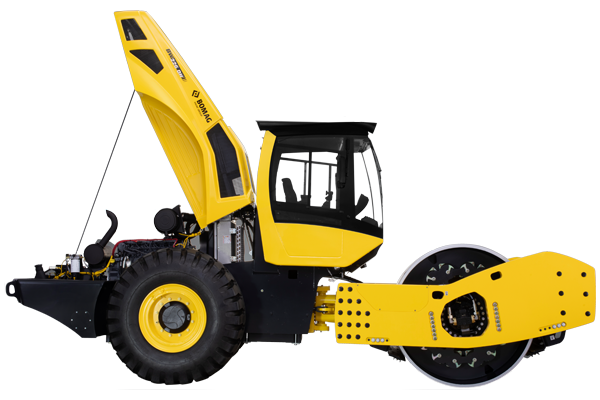 Easy Maintenance
This product series is easy to maintain, less downtime, less risk and lower cost. The articulated joint is designed to require no lubrication, it is sealed and dust protected. The wide engine hood can be fully opened and provides full access so that all engine components can be easily reached, increasing the effectiveness of the operation.
Ergonomic
Bomag ensures operator comfort with a wider platform on this latest generation. All cabs are equipped with vibration isolation for operator comfort. All equipment in this product is easily accessed and controlled by the operator. All the operating concepts of this machine are easy to understand and control with the clear symbols.
Technology
This product comes standard with real-time technology Bomag Telematic for monitoring device position and fuel consumption, and compression measurement technology Bomag Economizer. This product is optionally equipped with advanced add-on technology such as Bomag Evib Meter, Bomag Compaction Management 05 (BCM 05) and BOMAPS for more detailed documentation of compression data for optimum quality, productivity, and work efficiency.