4 Advantages of Heavy Duty Truck from UD Trucks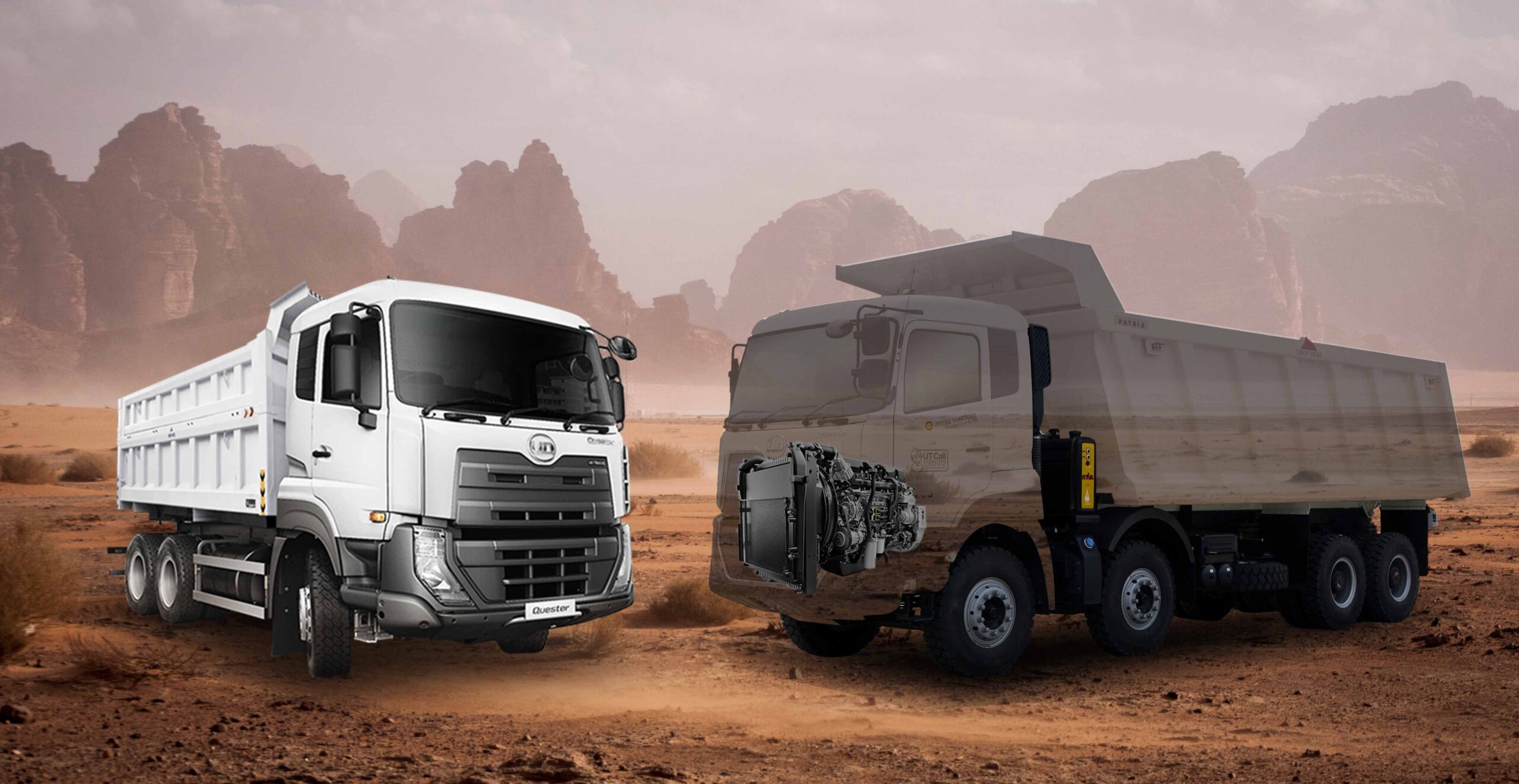 United Tractors, Jakarta – Trucks are transportation fleets that have small to large sizes. Trucks are classified into three types, which are light, medium, and heavy-duty trucks. These three trucks have their own advantages. The field, terrain, and workload of each truck are also different.
As the name implies, a light-duty truck is a small-sized truck that can lift loads with a light capacity. The small size makes this light-duty truck that can be used to pass through narrow roads.
The second type of truck is the medium-duty truck. Medium-duty trucks have a bigger carrying capacity than light-duty trucks. This type of truck is capable of transporting a large number of light loads or medium-weight materials. One of example of the use of medium-duty trucks is in the logistics and transportation sector which is used to transport motorcycles.
Lastly, there is the heavy-duty truck which has the largest carrying capacity and size among the two trucks mentioned above. Equipped with powerful diesel engines and a larger set of wheels, heavy-duty trucks can carry loads weighing tens of tons.
When your business is engaged in mining, forestry, or construction projects, heavy duty trucks are the most suitable machines to use, as they have large capacities and enhanced transmissions. There are many heavy-duty truck brands that you can find in the market. However, only heavy-duty trucks from UD Trucks that you can rely on for any type of heavy work!
Heavy-duty truck products from UD Trucks are not only large in capacity but also have a high level of durability, safety, and comfort. Even more interestingly, you can get heavy-duty trucks from UD Trucks only at United Tractors with excellent after-sales service that you can contact for 24 hours.
The Importance of Heavy Duty Trucks for Various Sectors
In the mining and construction sectors, heavy duty trucks act as heavy equipment used to lift heavy materials. In the mining sector, the type of heavy-duty truck commonly used is a dump truck.
A heavy-duty dump truck has the function of being a heavy equipment carrier that can move cargo from one location to another. The materials that are transported can vary, such as mining products or residues resulting from the excavation process.
In the construction sector, heavy-duty trucks are used to deliver building materials such as sand, rocks, cement piles, and so on. Even in large-scale construction projects such as housing construction or public facilities, heavy-duty trucks can also transport medium to large-sized timber, concrete weighing tens of tons, and other building materials.
Besides mining and construction, other sectors that can benefit from the use of heavy-duty trucks are forestry and plantations. In the forestry sector, heavy-duty trucks are useful for transporting large logs that have been processed from the forest and can also be used to lift large trees to be replanted.
Heavy-duty trucks in the plantation sector are no less important, as they can be used to transport large amounts of soil and crops.
Every contribution made by heavy-duty trucks to various sectors is the result of all the advantages possessed by the heavy-duty truck itself. In choosing a heavy-duty truck for project work, you are strongly encouraged to buy heavy-duty truck products from trusted heavy equipment distributors such as United Tractors.
Heavy-duty trucks marketed at United Tractors are quality trucks from UD Trucks that have 4 main advantages. What are they? Here is the review.
Advantages of Heavy Duty Truck from UD Trucks
There are several advantages offered by heavy-duty trucks from UD Trucks. Here below, we will thoroughly examine these advantages so that you can consider further getting a high-quality heavy-duty truck from UD Trucks.
Fuel Efficient
The first advantage is efficiency in fuel consumption. Fuel saving will certainly be very beneficial in terms of budget because it can minimize operational costs. So, when you have a fuel-efficient truck, you can save more on truck operating costs.
Even more beneficial, heavy-duty trucks from UD Trucks are among the fuel-efficient heavy equipment that will provide the best work performance for the continuity of your project because they are equipped with a more efficient fuel-saving system.
Strong Durability
The durability of heavy-duty trucks from UD Trucks is also unquestionable. With ideal wheel configuration and high engine power, heavy-duty trucks from UD Trucks have good durability. In addition, the work mobility generated by the truck has an optimal performance for whoever operates it. The truck has also been designed with a strong but flexible frame, making it suitable for off-road work.
High Safety Level
Heavy-duty trucks from UD Trucks are also equipped with a compact cabin structure with good safety facilities such as ideal sized stepping platform, 3 wiper blades, seatbelt reminder, steel bumper, and heavy-duty engine oil pan protector. The truck cabin has also passed various crash tests. So, you don't have to worry about the safety level heavy-duty trucks of UD Trucks', because it is definitely guaranteed.
Comfort
Besides being safe, trucks from UD Trucks are also comfortable to drive. Heavy-duty trucks by UD Trucks are designed with ergonomic interiors and also equipped with superior facilities that can provide more comfort for the driver, such as an adjustable steering column, air conditioning, sound insulation, driver's seat with suspension, MP3 audio system, and a bunk bed.
You can experience these advantages in flagship heavy-duty trucks from UD Trucks, namely Quester Dump series CGE37084R, CWE37064R, and CWE28064R. These trucks have a large capacity that will give the best contribution to your project.
In addition to the above advantages, Quester Dump has also used Euro 5 emission control, so the emissions released when the truck is operated are cleaner and more environmentally friendly.
Have you thought about owning a heavy-duty truck from UD Trucks? Get Quester Dump with the most complete series only at United Tractors!
United Tractors: The Best Heavy Duty Truck Distributor from UD Trucks!
Confused about choosing a distributor that sells high-quality heavy-duty trucks? Don't worry. Because United Tractors sells the best heavy-duty truck products from UD Trucks with the most complete series availability! Our consultants will help you choose the best truck that suits your business needs.
You don't need to worry about the quality and safety level of the trucks, because the truck products from UD Trucks sold at United Tractors have gone through a regular QC process so they are definitely feasible to use. Contact our sales service through UT Call at 1500 072 for the best offer!